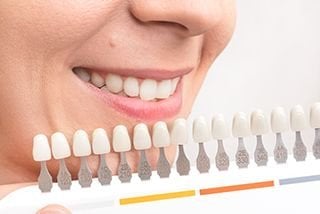 Over time, stain-causing foods and beverages, smoking, and thinning enamel can dim the brightest smile. If you are feeling self-conscious about your teeth, your dentist can help you discover the whitening treatment that is best for you.
At-home Whitening
Home treatments can be helpful in reducing surface stains. These methods are less expensive than in-office whitening, but, because they can't offer the strength of professional whiteners, they aren't as effective, and they usually require several weeks of daily application.
Whitening Toothpastes and Rinses
Whitening toothpastes and rinses use mild abrasives and bleaching agents, most often peroxides, to remove surface stains caused by foods, beverages, and smoking. They can also help keep teeth their brightest after a professional whitening. While toothpastes and rinses can't do much to affect tooth color or deep staining, surface stains can show some improvement after several weeks.
Whitening Strips
These flexible plastic strips come in two sizes, to fit both upper and lower teeth, and are coated on one side with a thin film of peroxide-based gel. The gel-side of each strip is positioned on the front of the teeth and gently pressed into place. The strip needs to adhere to each tooth completely to ensure even whitening, and shouldn't touch sensitive gum tissue to avoid irritation. The strips are usually recommended for use twice a day, for 30 minutes each time. Total treatment time can vary from several days to several weeks.
Stock Gel Trays
Gel tray whitening systems provide a mouthguard-like appliance that is filled with whitening gel and placed over the teeth. Trays can come pre-filled with gel or with individual gel applications in syringes. Stock trays aren't always a perfect fit, and it's important to make sure the whitening gel doesn't contact the gums and other soft tissue in the mouth. Use time will vary with different manufacturers.
While all these whitening methods can brighten your smile, there are some circumstances which make a professional whitening your best option. Professional whitening agents are more powerful and can help eliminate darker stains which over the counter (OTC) products can't remove. For those with deeper or darker staining, or for those who would like to see immediate results, in-office whitening is the best choice.
In-Office Treatment
An office whitening treatment is generally faster, more effective, and lasts longer because dentists use gels with a higher concentration of peroxide than those gels found in OTC products. Your dentist will examine you first to make sure your teeth and gums are healthy, protect your surrounding gum tissue and mouth during the procedure, and monitor treatment throughout. Office whitening usually takes from 30-90 minutes.
Light-Activated Whitening
Some office whitening treatments make use of halogen, LED, or UV lighting as part of the procedure. Light doesn't whiten teeth itself. Instead, it works with the gel solution, activating the molecules in the whitening gel and speeding up the chemical reaction which eliminates stains.
Custom Gel Trays
Custom trays created in the dentist's office are an option for those who want to use a whitening gel at home. Professionally crafted trays will fit your teeth perfectly and allow a more precise application of the peroxide gel, which will also be provided. Custom trays can require about two weeks of use for maximum whitening.
Some teeth are not good candidates for typical whitening procedures at home or in-office. If you have deeper discoloration caused by trauma or medications taken during tooth formation, or if you have dental bonding, veneers, crowns, or bridges which are darker than your natural enamel, talk to your dentist to decide which whitening treatment or cosmetic procedure is the best option to achieve your brightest smile.